So I have an excuse for my recent hiatus... my roommate moved to her new apartment, and the cable modem went with her. After Comcast was 5 hours late on Monday (quite the story, but I'll spare you) I finally have internet back.
A lot's happened since my last post. First things first!
VIRGIN MOBILE FESTIVAL 2008>
This was my third year at the Fest (out of 3, I'm calling it my "threepeat") and I'll honestly say that last year was better. This is due in large part to (in my opinion) a better line up last year, but I'm not complaining - this year's Festival was fantastic.
The best of what I saw? I'd say
Bloc Party
,
Chromeo
,
Wilco
, and
Underworld
, in no particular order.
Iggy & The Stooges
were also excellent, but we were unfortunately far back. That man is incredible - he's just as cool as he was in the 70's, only less stoned.
Some highlights: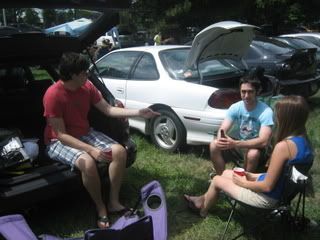 Suzanne & Mike came to the Festival too & stayed at my place, yay! We tailgated before the Festival both days.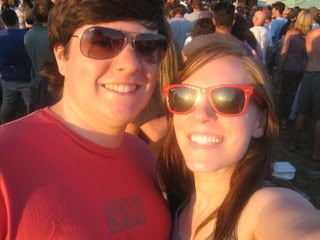 Ben & I were really happy to see Wilco as always. I <3 href="http://photobucket.com/" target="_blank">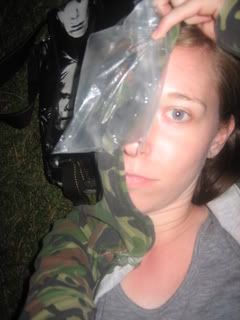 I got headbutted by a drunk/high/crazy girl who was wildly dancing/running/flailing. This is the aftermath. But I managed to get right back into the tent and sort of dance (bop) with ice on my eyebrow.
I love live music.
Moving on.
Shira visited last weekend! :D
I took her to my favorite local Korean dive for karaoke and drinks. Good times.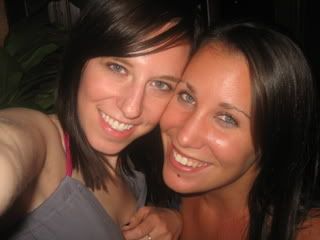 Kristyn stopped by for a quick rendition of our favorite karaoke tune, "It's All Coming Back to Me Now" by the greatest singer in the world.
...that would be Celine Dion if you're still wondering.
p.s. note the new hair in the second set of pics ;)