This week was full of music & art & happiness.
Wednesday Ben & I went down to the
930 Club
to see
DJ Shadow
&
Cut Chemist
Present:
The Hard Sell
. It was excellent.
The basic concept is the two master turntablists make music using exclusively first pressings of 45s, 8 turntables, a couple of mixing boards, and some effect pedals. Lots of cameras provide a live feed to the mega-screens, alternating with trippy animations. AWESOME.
It was really difficult to get pictures, but here's one of the best: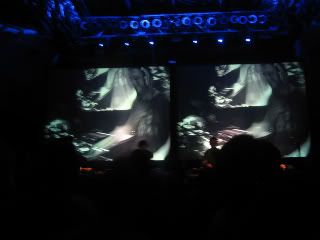 DJ Shadow on the right, Cut Chemist on the left
A short video I took - it's crappy, but came out way better than I had expected:
Saturday we went to
Artscape
, "America's largest free public arts festival." Except it costs $15 to park and $3 to use the ATM. But you know, it's free.
//end rant.
It's a Baltimore institution, taking place over the weekend with lots of music, art for sale, installations, etc. We saw some awesome stuff, and some mediocre stuff. and it was HOT.
We rode the ferris wheel for $1 each.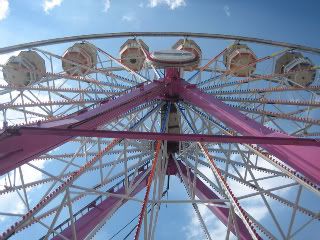 We snuck into the
Meyerhoff Symphony Hall
, and it is gorgeous.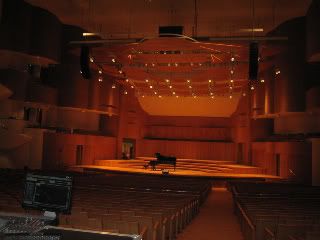 I met a nice guy who let me play with his hula hoop.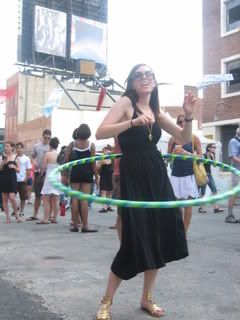 Sunday we went to Whartscape,
Wham City'
s alternative version of Artscape. Basically a major hipster music festival, with lots of awesome/awful fashion and short sets.
Dan Deacon
played and he was incredible as always. His shows are like the best dance party you've ever been to, where everyone loves each other. There are few people who can get an entire mosh pit to run in a circle and then switch directions with a shout, but Dan Deacon can.
Dan's in the orange.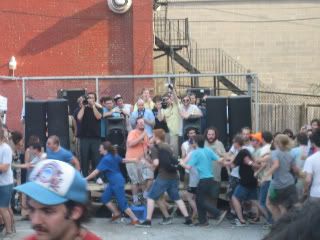 I LOVE THIS CITY!