Jil Sander
is one of the most incredible fashion design houses. Based in Germany, the line is appropriately minimalist. And minimalist in the best and most lust-worthy way (not the minimalist-is-just-a-nice-way-of-saying-boring way).
This particular dress struck my eye in a magazine ad not too long ago, and I haven't been able to get it out of my head since: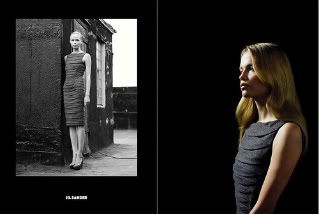 (A/W 08, model is
Natasha Poly
)
I was stalking the Neiman Marcus website, and the dress is available for
online order
! And there's only one size in stock - a 34/4 - which would probably fit with minimal tailoring.
Best of all, the dress is a mere $4,975.00
Can I borrow a few bucks?