I ordered these little pretties on
Zappos
yesterday: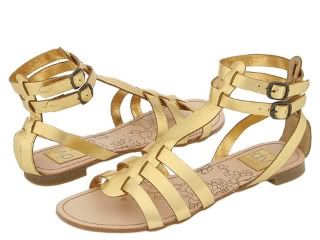 DV by Dolce Vita, Daisy-11
So excited about them. I'm seeing them with skinny jeans and
American Apparel
tees. Also I'm starting to notice that I've become obsessed with metallic shoes.
Rumor has it*
that girls are wearing their gladiators buckled around the ankle of skinny jeans?
Should I even be allowed to consider this?
*yes I am well aware that this was discovered a month ago, but cut me some slack - Bmore isn't exactly fashion capital of the world, let alone even the state of Maryland.