so i'm catching up on my google reader, and
Fashionista
recently posted about a show at London Fashion Week for new label
Paris68
.
anyone heard of them? i don't know much, just what Fashionista says:
"the collection was designed by Marcella Lindeberg, wife of Johan Lindeberg (
J. Lindeberg
to you) ...the couple has played an integral consulting role in the
William Rast
label almost since its inception...."
i have to admit i think the name is pretty dumb. Paris68. Clearly the 68 isn't a reference to the brand's founding. and if they are showing at LFW, and their website lists an NYC address, whats the Paris connection?
Kinda sounds like it would be one of Forever 21's private labels. Just saying.
REGARDLESS. i really liked a lot of their looks. a few personal favorites: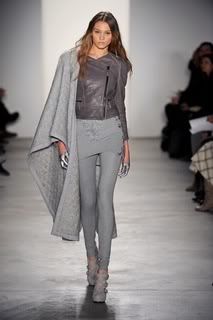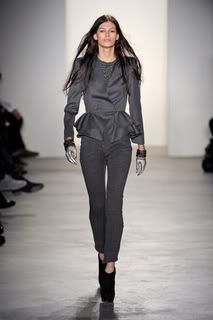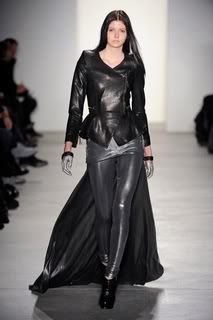 (this is my #1 look, abso)
i love the neutral palette - yes, i'll admit that for a colorist i do love black a little too much. i'm also really liking the jacket silhouettes: asymmetry, strong shoulder, peplum waist. it's just a bit futuristic but not at all costume-y. all things i would wear in real life (if i could ever afford...sigh!)
Do you think the name Paris68 is dumb?
What would you name this brand instead?
Do you like the looks i selected? Do you hate them?
check out the full collection here:
http://fashionista.com/2010/02/label-to-watch-paris68/