A couple of weekends ago, Ben & I ventured over to Fells for a lovely summer Sunday afternoon. We stopped by the fantastic and independent record store
The Sound Garden
to pick up some new tunes.
My selections:
Hard-Fi
-
One Upon a Time in the West
We are Scientists
-
With Love and Squalor
Death Cab for Cutie
-
Narrow Stairs
I'm really enjoying all 3 albums. If you haven't checked out any of these artists, I highly recommend you get yourself to the nearest MySpace.
The main motivation for this post is to discuss Death Cab's
Narrow Stairs
. I'll admit, I had my doubts, based on historical events.
I liked
Transatlanticism
(2003) better than
Plans
(2005);
and
I liked
The Photo Album
(2001) &
We Have The Facts And We're Voting Yes
(2000) equally more than I liked
Transatlanticism
.
You Can Play These Songs With Chords
(1997, re-released 2002) will always hold a special place in my heart, in its rawness and youthfulness. And for having a physical photographic slide as the album art (not done justice in an internet image).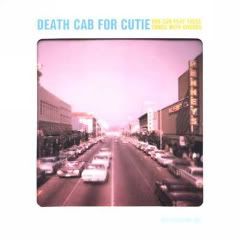 Plans
felt too mainstream and safe to me. I love
Transatlanticism
for being my first Death Cab album, and also for the intensity and the shadow of some serious rocking out.
The Photo Album
and
We Have the Facts...
are very emotionally naked and the music is sparse, in a good way. You can see how the band was creating their sound and point of view. The lyrics on those two albums are incredible, and the drum beats are captivating. They delicately and successfully toed the line between too much emo-whining and too much rocking out.
But
Narrow Stairs
might be breaking my trend of disliking. Based on preliminary listens, it might not be the least favorite despite being the newest. The lyrics are good, not quite as enigmatic as I might expect but still thoughtful, and they do a great job of painting the mental picture. Ben Gibbard's voice has never been better. The beats and melodies reference (dare I say it?) "classic" Death Cab - in the best possible way.
"Long Division" reminds me of "A Movie Script Ending" from
The Photo Album
. Anyone else get that feeling?
Feedback? I'd love to hear some fellow DCFC fan thoughts.