Yesterday was Cyber Monday (essentially, Black Friday for the internet). Bloomingdale's was running incredible sales: 40% off select regular-priced merchandise, 50% off sale merchandise.
Unfortunately, the website was totally f-ed up all day, making purchasing things impossible.
So today I called them and made it my personal Cyber Tuesday... somehow I was able to convince them to honor yesterday's 40% off deal and give me free shipping. And I'm very excited to receive new jeans! Hooray!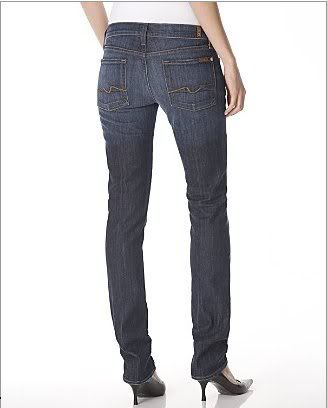 7 for All Mankind "Roxanne" Skinny Jeans in New York Dark
I promise they look better in person than on this awkward model.
Also, this might be the very first time I've ordered jeans online, since it's so hard to find jeans that fit. It just so happens that I have a pair of Roxanne's in black waxed denim...so I'm pretty psyched for a pair in the classic 7s color, New York Dark.
Dear readers, do you ever order jeans online?
[
also available on the 7 website
]