Ben & I put up a Christmas tree yesterday (in a completely secular way).
Since this is our first xmas, we don't have an accumulated collection of sentimental ornaments... we stuck with the classic glass balls in blue and gold, with a few random red ones.
I hung the ornaments while Ben attached the hooks (which I didn't even know you had to buy!) and we watched football. The Eagles & the Ravens won yesterday, so we were both happy :)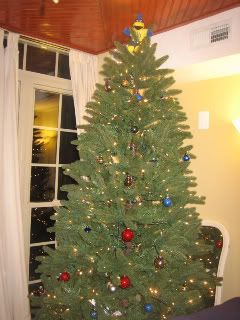 YouDee is our tree topper, and with all the blue & gold ornaments, i guess that makes this a UD themed tree... is that totally lame, or awesome?
And of course, it's not hanukkah without an electric menorah in the window.