Is FREE baseball!
The Orioles are doing a promo for free admission on your birthday - but don't delay if you're a winter baby like me, you'll get a month's window to score the free ticket!
Register your birthday here:
https://secure.mlb.com/bal/fan_forum/birthday_form.jsp
I'm also LOVING this logo for the "Birdland Stimulus Package."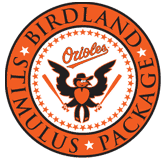 i definitely need a t-shirt with this graphic. and i love that it reminds me of the Ramones ;)