I've been meaning to post about the PR season 4 premiere for a while, but I kept putting it off. Oops.
Anyway, I won't bore you with a rundown of my feels on every designer, but just the designs that really stood out to me.

Episode 401: Sew Us What You Got
Since the commercials for this season started popping up to tease me, I've been intrigued by
Christian
. Maybe it's the hair, or the fact that he is totally obnoxious and has an annoying voice.
Either way, I think I fell in love with him upon reading his online bio: He went to Baltimore School for The Arts and his favorite designers are Alexander McQueen & Vivienne Westwood.
And then in the first challenge - to create something that embodies their POV as a designer (could this have been easier?!) - he produces this ensemble <3: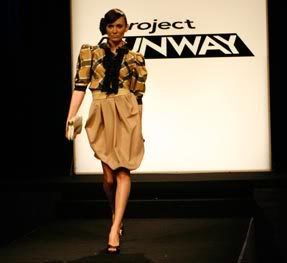 Um, hello. You're probably gay, but marry me anyway? kthanks.
Although the colors are a little subdued for my hi-viz taste, I think we might be a match made in heaven.
The worst part is, he lost to this shit by
Rami
: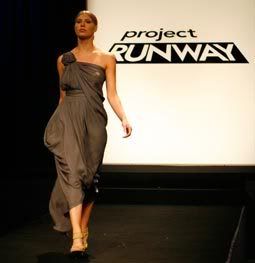 It looks like a sorority's girls toga.
One saving grace of this look: Michael Kors's use of "MOB: Mother of the Bride" to describe the completely unnecessary and pedestrian rosette.
& I plan to add that phrase to my own fashion lexicon.
Episode 402: Money Changes Everything


omfgzzzzz SJP!
I loved, loved, loved the winning look by
Victorya & Kevin
: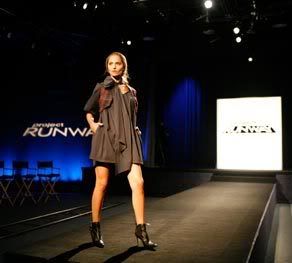 Def something I would love to wear. I adore the bow, the draping & the little plaid vest (very multi-function for sure). I do love dresses in general, so I suppose I'm a bit bias.
I also liked the 2nd place look, although I'm not huge on capes. But a seriously nice - not to mention surprisingly impressive - effort by Elisa & Sweet P. The spit marking by Elisa was hilarious too... might I suggest using Scotch tape? That was my way of marking fabric back when I'd sew on my parents dining room table.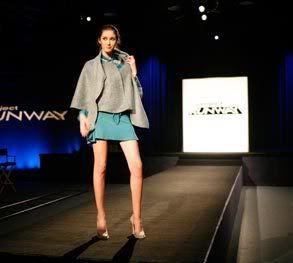 But the worst part of this episode, by far, was the ridiculous jacket put out by my boy Christian and his partner Carmen. The turtleneck dress and belt were nothing special and/or terrible, but the jacket was a little too Michael Jackson circa "Bad" for me...and especially for
Bitten
.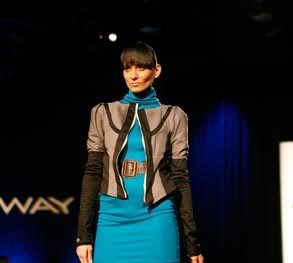 Get your act together, boy.