So my
Eagles
didn't do as badly as everyone had assumed they would...
Considering that the Eagles were 5w-5l & the
Patriots
were 10w-0l at the start of Sunday Night Football, it was kind of expected that there would be a Pats blowout.
But the Philly birds gave them a fair run for their money! If there is such a thing as a "good" loss, this would qualify. So I'm about as happy as I could be without a win :D
Final score: Philly 28, New England 31
I'm also really, really proud of AJ Feeley.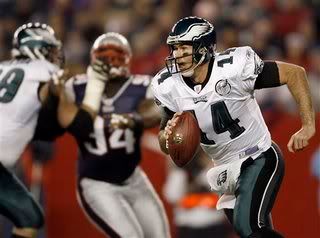 [picture from ESPN.com/AP Photos]
More details
here
.
Even better,
Delaware
beat
Delaware State
in their first-ever meeting & the first playoff game of the season for the
Blue Hens
.
Next up,
University of Northern Iowa
(&& would you believe I actually know someone who went there?)