Fashionista
is the reason I shopped at Old Navy.
One of my favorite fashion blogs - highly recommended - recently
featured a post
about a pair of Old Navy strappy wedges. Apparently, they were "we just ducked into Old Navy to get out of the rain and came out with something we've worn everyday and gotten millions of compliments on" shoes. If only I could have such luck. So anyway, here they are: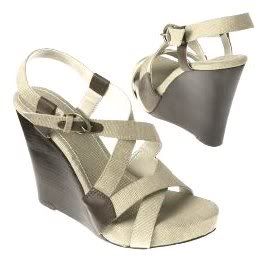 I decided to check them out, while in Delaware this weekend - tax free!
I can't WAIT to wear these. Fashionista mentions wearing them with socks - I feel like I'm not quite trendy enough for that - but I'm definitely plotting an outfit to rock these with some tights so I don't have to wait for warm weather.
So not only did I totally copy Britt at Fashionista, I also picked up
this dress
(the picture doesn't do it justice! Especially the color):
Even though the online description says "hits below the knee," it's actually SUPERshort (acceptably short, I think)… granted, I picked up an XS because I felt that the small was just a little too big all over – especially in the shoulders. And it's so military-inspired that it has to be very tailored and very neat. I rocked it on Saturday night with black opaque tights, my
gold Guess? Flats
with the gems on the toes,
the Fafi for MAC scarf
(switching between neck and wrist) and my Coach wristlet from Benny.
The Shoes: (def way more golden in person)
The Fafi Scarf:
I looked hot, if I do say so myself.
AND! My third glorious Old Navy purchase: a zebra print cardigan - brown stripes on a taupe ground - so fabulous. Unfortunately not available online (anyone know why?) so no pictures...but it's straight forward enough that you can use your imagination and you're probably right.
I only go into Old Navy about once a year. I'm usually really disappointed.
This time around, I tried on about 20 different pieces and left with 3, all of which I'm pretty psyched about. So nice work, Old Navy/Gap Inc. I'm loving your
Urban Explorer
collection!
Speaking of shoes...I really need to get (1) a new pair of
Jack Rogers
and (2) flat
gladiator sandals
.
I'll be on the lookout during my "things I 'need' for Spring Break" shopping spree.