I got yet ANOTHER bloomingdale's catalog at work today! Seriously, they need to chill out with the paper waste.
I wasn't even going to read this one - rather deposit it directly in the recycling bin - but my boss wanted to check it out.
Reading this catalog basically consisted of us flipping pages and going "that's sooo cute" or "that's SOOO UGLY!!!" at every picture.
One picture warranted an OMG: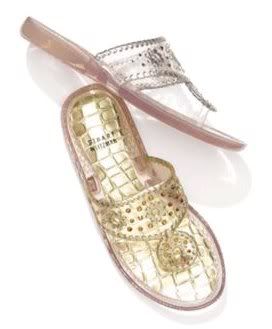 Stuart Weitzman "Indiana" Jelly Flip Flop
, $155 @ bloomingdales.com
First of all, they are jellies. Why do shoe designers insist on trying to bring these back every Spring/Summer season?? Seriously, they are jellies. Uncomfortable, childish, and they make your feet smell.
and secondly, they are obvious knockoffs of a classic: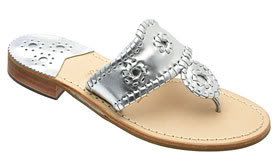 Jack Rogers "Navajo" Thong
, $88.95 @ Nordstrom.com
These are the iconic resort sandal, and arguably distinctive. Down in Florida, all of the fashionable rock these with their designer bikinis and sundresses. The not-so-fashionable match them with their silly
Lilly Pulitzer
dresses*.
and I recently got this exact pair (silver) and can't wait to wear them next week on Spring Break in Ft. Lauderdale yahoooooooo:D
*p.s. - Lilly Pulitzer's tag line is "Via Palm Beach," but they are based in King of Prussia, PA. I find this hilarious.
View Larger Map