Sunday:
The
Justice
show was absolutely incredible. It exceeded my expectations in every possible way.
Imagine the best dj in the world, times a million.
Sonar
was a cool venue. The room wasn't huge (much smaller than
Roseland
, bigger than
8x10
). The stage is low, and you can get fairly close. Lots of bars around, and easy to get to. My main complaint is that they don't allow cameras (apparently ever, not just for certain shows), so my only pictures are on my phone (read: shitty). I'm not sure they are even worth posting. There is one where you can kind of make out the cross-shaped light that makes up their main stage setup, let me know if you want to see :)
Jamie, Kevin and I had a ton of fun. The energy was way up, the music was awesome (of course), the crowd was chill, and I even got a compliment on my outfit from 2 random stranger girls.
For the record, I was wearing: hotpink & black stripe cardigan,black
As Cities Burn
t-shirt with syringe doodle on it (they used to be screamo and now kind of suck - they played a
Take the Mic
show at Delaware once), jeans cuffed up to show my hotpink Chuck Taylor high-tops (
the "Notebook" style
), and (the best part) a piece of hotpink lame that I tied on my head as a headband, Native American style. I looked fucking rediculous, and I fit right in
(did I mention this tour was sponsored by MySpace?).
We danced & drank & just had a rediculous amount of fun. It was a-fucking-mazing.
Monday:
I was super-sick, and had to call out of work.
But it was worth it ;)

Wednesday:

Finally went for my way-overdue
hair appointment
. For color I wanted to go black, but my stylist (Angel) talked me out of it for a number of reasons (my hair is damaged, the spring sun will ruin it, you'll never get back to your original color, etc.).
And for the cut, I brought in this picture of
Ashlee Simpson
:
And these are the results (please don't judge me, this is right before bedtime!):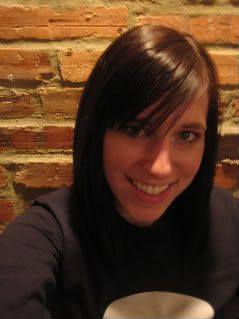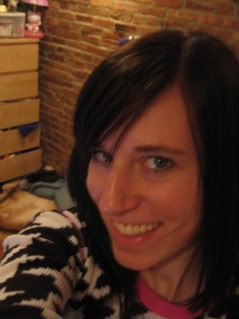 I'm obsessed with the new cut and color. You like??