I am not-so-secretly obsessed with the MTV show
The Hills
. As trashy as it is, I tune in every week (& watch every rerun, no matter how many times I've seen it) && I discuss Lauren, Heidi & Whitney as if I actually knew these people. I also own Seasons 1 & 2 on DVD, and plan to buy 3 as soon as it's available. Yes.
One of the things that I enjoy about The Hills, outside of the general drama, are the outfits. Especially now that Lauren & Audrina live together, and their styles are so different it's almost like they are assigned different archetypes and dressed by professionals.
Now that you mention it...
Anyway, I just wanted to point out a few things from the red carpet at the Finale Show.
(Just to give you a heads up, I hate the aftershows about as much as I love the actual show, and really didn't pay attention to anything but the dresses)
Lauren: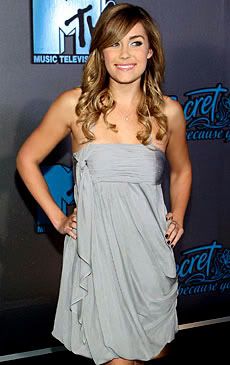 I. Love. This. Dress.
Maybe not as much as the one Serena wore in the Gossip Girl episode that I previously drooled over, but it is gorgeous nonetheless. Love the draping & especially how the drape makes is kind of like a bubble mini dress only it doesn't look like something off the clearance rack at Forever 21. I would definitely buy this in a heartbeat.
Whitney & Audrina: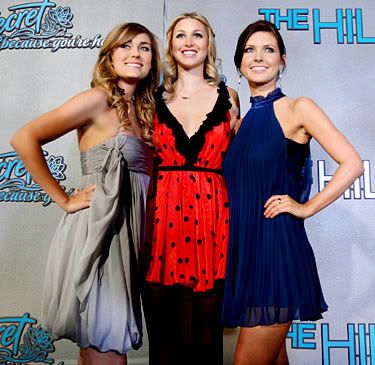 Wanted to give these ladies a quick shoutout for their respectable efforts. Although I am not really in love with either of these looks, they're certainly cute! Whitney's a little too lady-buggish for me, and I feel like I've seen Audrina's dress before (any suggestions as to where?) But they both still look h0t.

Heidi: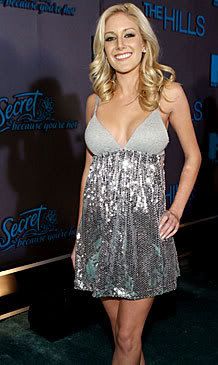 Granted, I hate Heidi, just as all good Hills fans are supposed to. I am starting to feel bad for her as she comes to realize just how few people actually care about her, including her so-called "boyfriend/fiance." But not bad enough not to rip on this getup.
Newsflash Ms. Montag: WE ALREADY KNOW YOU GOT A BOOB JOB! It's like this is the first time she's going out in public post-op & wants everyone to start whispering "are they bigger today???"
Of course, she and her "manager/fiance/ex fiance" are always looking for attention, so maybe she thought that the new twins could get her some?
Next time, maybe she'll put two arrows on her skirt, each pointing to a nipple.
(when this shows up on the red carpet, you'll know where the idea came from)